A word about what you see
We are at the very start of our journey to create a camping and caravanning experience that, we trust, you'll find intoxicating and engaging in equal measure when you arrive and make Bredon-Vale CC your home-from-home for a few days.
Firstly, the name. You'll be in the glorious Vale of Evesham, overlooking the stunning beauty of Bredon Hill – effectively the north-western edge of The Cotswolds – so what other choice was there? Secondly… well, please read on.
The ecology and biodiversity of our little corner of Worcestershire were low when we came here in the autumn of 2018. It means that the campsite map is a vision of how it will look when it has completed its gradual transition to maturity.
The Orchard will be growing until 2022, but the wait will be worth it for the blossom, fruit and wildlife that will follow.
The boundary planting will take a little longer. However, the views and the sunsets are already there, as majestic as they've always been. After all, Mother Nature has never been rushed.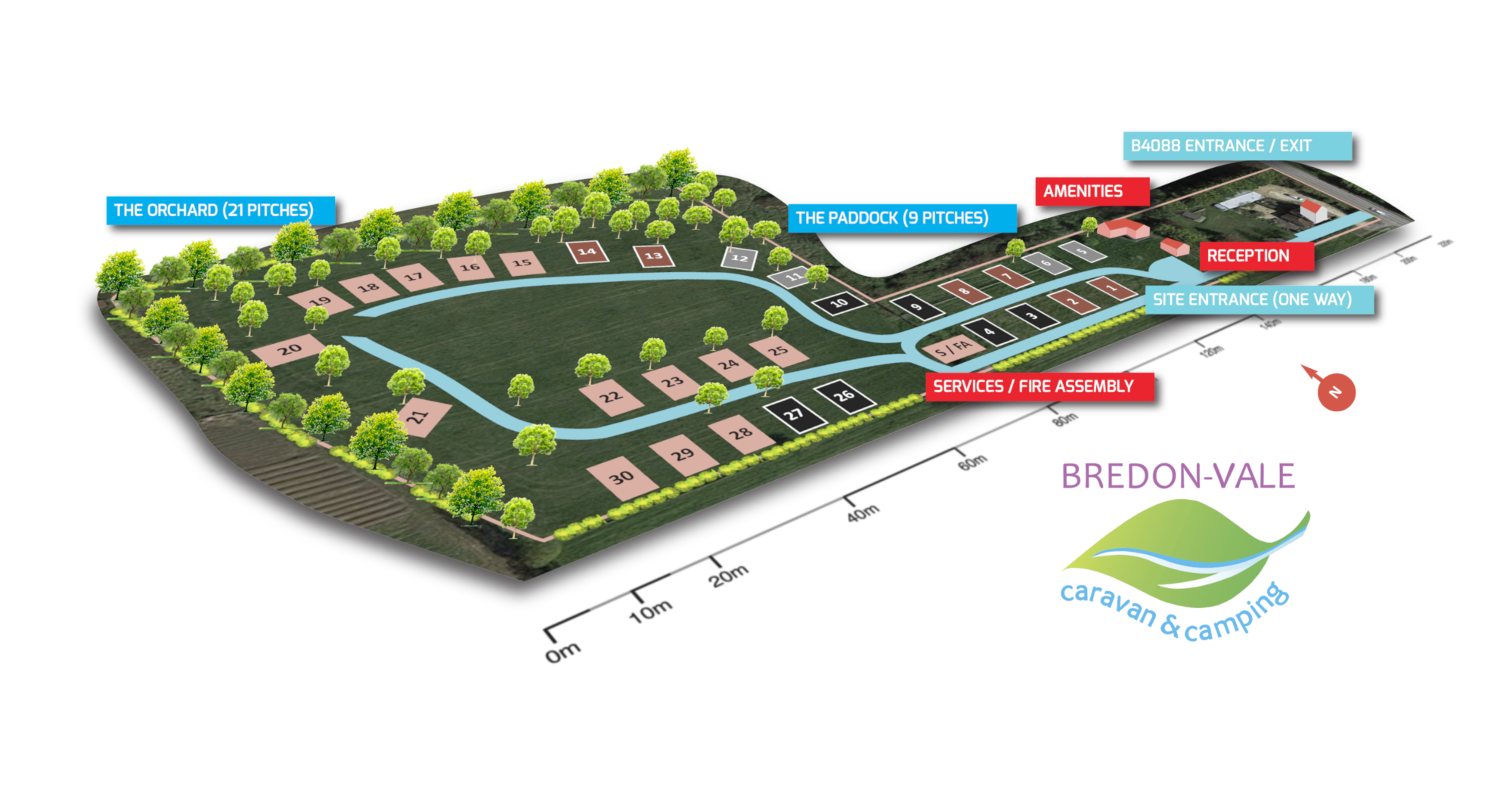 RULES OF LIFE AT BREDON-VALE
Introduction
We're dedicated to providing our guests, and the surrounding community, with a mutually pleasant experience. These principles and rules are at the heart of ensuring that guests find it a relaxing and rewarding place to visit, and the local community regards us as a good neighbour.
By the way, if you're looking for our Bredon-Vale Caravan and Camping Terms & Conditions, please click the link.
Our objective
We want to create a tranquil campsite where tourists can enjoy the view and feel a part of the Vale of Evesham traditions. By building relationships with the various tourism bodies, local producers, local pubs / restaurants, farm shops and wildlife trusts, our tourist guests will have a rich experience and the local area will be supported.
Our promise
The campsite is geared for those who've retired and earned a week or two of relaxation, and enthusiasts who are drawn by the thought of immersing themselves in the beauty of the landscape and the history that lies around almost every corner. We manage the site in a way that's geared towards maintaining great relationships with the residents of Norton and the surrounding towns and villages.
Arrivals
Reception is open from 8am to 7pm
All customers must report to Reception on arrival – if we're not available, we'll leave a clipboard with instructions
A valid ticket must be clearly displayed on the unit at all times
Guests who haven't booked must make full payment at Reception before setting up on a pitch
Pitches will be available from 12pm on the day of arrival and must be vacated by 11am on the day of departure
We require prior notice if our guests expect to arrive outside of their arrival day or late in the evening
We want the holiday to be enjoyable for all our guests, so we therefore reserve the right to refuse entry to the campsite – for example, from people we think might spoil the environment and experience for other guests and our neighbours
Unruly or anti-social behaviour won't be accepted and may lead to those responsible being asked to vacate the Campsite
Departures
Guests are required to vacate their pitches by 11am on the day of departure
We require guests to leave their pitch as they would like to find it and dispose of all rubbish
We encourage guests to provide feedback about their stay with us, so that we can improve the experience for them and the local community
Group bookings
We want groups of people to enjoy our site. However, they must adhere to the General Rules laid out below. Anyone not doing so may be asked to vacate the site
All group guests are required to report to Reception before going to a pitch, even if other members of their party are already pitched
Noise
We insist on guests respecting Quiet Time – 10.30pm until 7am
They are required to keep noise to a minimum and respect other campers and our neighbours
They are required to keep the volume of music down – not everyone wants to listen to it
General rules
By making a booking with us, you have entered into a contract in which you undertake – on behalf of yourself and the people in your party (including children) – to adopt the following standards of behaviour:

Act in a courteous and considerate manner towards management and guests
Supervise children properly so that they are not a nuisance or danger to themselves or others
You will not commit any criminal offence at the campsite or undertake any criminal activity
Guests shall not cause any damage to the trees, shrubs, fences, buildings, fixtures, fittings or other property. Any damage will be paid for by the guest held responsible
Please leave a minimum of six metres between the tents / vehicles on your pitch and those on adjoining pitches
Please be considerate of other campers when playing ball games etc.
Servicing chemical toilets must only be done at a Chemical Disposal Point
Rubbish should be recycled – please see site facilities
Beware of children while driving on the Campsite
All children must be supervised and must not go on other people's pitches uninvited
Please use raised barbecues or use blocks provided
You must follow the strict 5mph speed limit on the Campsite at all times
Keep the area clean, remove your litter and recycle
On the day of departure, please leave the pitch and surrounding area as you would wish to find them on arrival
Your pet is your responsibility at all times and must not be allowed off-lead. We have a strict 'dogs on leads' policy at our site
All animal waste must be cleaned up and disposed of in the poop bins provided
Customers are advised that requirements for disabled guests should be discussed with Management, prior to booking, to check for availability and ensure we can meet both your needs and expectations
If your vehicle becomes stuck, due to wet grass or other weather-related issues, we're happy to help but accept no responsibility for any damage that happens as a consequence of assisting in moving your vehicle to safety. Our advice is to contact your breakdown service
Extra cars / day visitors
Please park only one car per pitch. We're delighted if you want visitors to join you, but please ask them to park by Reception and walk to your pitch
Visitors under 18
Please note that we cannot accept bookings for visitors under the age of 18, unless they are going to be accompanied by an adult for the duration of their stay
Vehicles
Vehicles on site must have current and valid vehicle tax and insurance. Drivers of vehicles – including motorcycles and scooters – must hold a current full driving licence to drive on site
Vehicle movement is prohibited between 11pm and 7am
All vehicles must adhere to the strict 5mph Campsite speed limit
Trading
Trading is not allowed on site, unless agreed with a member of the Management
Smoking
There is a non-smoking policy in all site buildings
Fire
Fire points are located around the site. Please familiarise yourself with your nearest point
Barbecues must be raised or on blocks provided, and not near fire pits. There must be no damage to the grass
Camp-fires are not permitted, other than in the fire rings provided. We also hire them at the office. Wood is available to buy on site. Scavenging for wood anywhere on the site is prohibited
Our wild site
We've kept the site as wild as can be, which means there are brambles, thorns, thistles, stinging nettles, insects, uneven surfaces, the odd rabbit hole, and a drainage ditch along the length of The Orchard field! You might well also see deer using the site as a corridor, and catch sight of our special resident, the noble chafer beetle. Please leave the wildlife undisturbed. Be careful when wandering around the site and use insect-repellent to prevent being bitten
Responsibility
The Proprietors accept no responsibility whatsoever for loss or damage to persons or property that arise out of the use of the site or its facilities. The Management shall not be liable for any loss, damage or theft from or to a vehicle or hire unit
HOW THE EXPERTS HAVE HELPED
Pershore College of Horticulture
PCH is an internationally renowned centre for horticulture situated on a 60-hectare, riverside site around 10 miles from us.
The College has recently undergone a £5.8m transformation and now boasts a contemporary new glass building that houses a new science and technology centre, a new collections house, new teaching rooms, project spaces and library.
Worcestershire Wildlife Trust
The Worcestershire Nature Conservation Trust was founded in 1967, ten years after a group of naturalists founded the West Midlands Nature Conservation Trust, covering Birmingham, Staffordshire, Warwickshire and Worcestershire. 
The WNCT later adopted the name Worcestershire Wildlife Trust and now has more than 75 nature reserves across the county that form part of the Trust's vision for a Living Landscape.
It works with other landowners, managers and communities to restore, recreate and reconnect fragmented natural habitats to achieve a landscape where wildlife can flourish and people can lead healthier and happier lives.
Its members, unsurprisingly, are the lifeblood of the Trust. Membership has grown in recent years to more than 20,000 – that's 3.5 per cent of the county's population.
People's Trust for Endangered Species
As a site that's registered as an ancient orchard, it made sense for us to turn to PTES when we were planning our new orchard.
With the help of scientists, conservationists, landowners, and the general public, the Trust has been working to protect our delicately balanced ecosystem by bringing our most threatened species back from the brink over the past 40 years.
A PTES grant allowed us to return some of Worcestershire's ancient native species to the landscape – not only allowing us to play a small part in the Trust's mission, but enhancing the wider area as well.