THE CAMPSITE WE BUILT WITH YOU IN MIND
When you've spent the best part of a decade immersed in the pursuit of a dream – building a campsite in a quiet corner of the rolling Worcestershire countryside, for example – there are plenty of times when you wonder whether, one day, it'll prove worth the effort. And many more when you ask yourself whether others will believe it was, too.
Between Covid lockdowns, when all our great intentions had to come together, our first guests were just the tonic we needed in that respect:
What a gem of a place this is, in this stunning location. The site's been built with ecology in mind, and the facilities are top-notch. The owners Jacqui and Jim are exceptionally helpful (as are their children and extended family). We arrived as strangers and felt we left as friends! – Denise and Ken Veasey
As more like them followed, we grew in confidence that we were delivering what our customers wanted:
Just spent four restful days at Bredon-Vale. Well laid-out pitches for caravans, all south-facing, also a large area for tents. Spotless toilet and shower block. Added bonus, bus stops nearby with buses to Evesham and Stratford-upon-Avon, which worked well for us. Nothing too much trouble for the owners, Jacqui and Jim, who are constantly working around the site… with a great respect for nature. Lovely site. Lovely people. We will return – D & G Stevens
And we quickly understood that we'd pitched everything just about right:
Just had a brilliant week at this fantastic little site. Facilities are immaculate, pitches are spacious, lovely views, and brilliant hosts who work hard to maintain and improve the site. As Arnie said, "we'll be back" – Mel & Jayne, from Sheffield
Stopped over on our way back to Doncaster from Cornwall. Lovely, small new site only just opened about a week ago. Hard-standing and spotless facilities. I would recommend this site to anyone breaking their long journey down that way – Stew and Sue Wroe
All we had to do then was work hard at making things even better. We've had guests pausing on rides to the west coast of Ireland, others from The Netherlands, couples from Norway, and still more who've chosen to stop off on charity walks stretching the length of the British Isles.
After our first two-week closure for site maintenenance, the numbers picked up as the season of mists and mellow fruitfulness neared its peak:
We just want to leave a few notes behind to say how much we enjoyed staying at your site. We had a warm welcome as we arrived and immediately sensed how peaceful, well-organised and orderly the site is. The location's beautiful, serene and varied. The shower block's impeccably clean, and the site is discreetly secure. An added bonus is that the pub's within walking distance. We look forward to coming back when the trees are in leaf.
And there was one more visit we're delighted to tell you about. Just a year after opening, Worcestershire Regulatory Services' Environmental Health and Licensing team made their first annual inspection, and had this to say:
Thanks you for welcoming me to your park on my recent visit. During the visit, we discussed standards and how adherence to them is best practice for all caravan parks. We found your park to exemplary in its following of the standards.

Here's the kind of feedback that will keep us on our toes and avoiding complacency….
CHEERS! WE'RE GLAD YOU LIKE IT
If Carlsberg did campsites! Great couple of nights stay. Really friendly and helpful owners. The site is very well thought-out, and the facilities were some of the best we've used, both in cleanliness and design – for example, showers you can use without soaking your clean clothes! Was great to see the all the eco-touches, too, like the recycling, and eco-friendly soap. Would highly recommend and look forward to returning.

Where do I start? We initially found this campsite for a one-night stay to learn the ropes of towing and holidaying in a caravan. And initially I was drawn in by their focus on wildlife protection. This site is in a truly beautiful setting and has everything you need for a relaxing trip, but with so many days out close by. We've now stayed twice – which is, unlike me, holidaying in the same place twice – but the owners are so warm and welcoming, we didn't hesitate in returning. We therefore stayed for Easter weekend and, completely unexpectedly, they did an Easter Egg Hunt that our girls absolutely loved! A lovely little touch. Thanks so much, Jacqui and Jim. We will definitely be spreading the word and wish you all the best with the success of your campsite.

Super helpful and supportive to us first-timers from start to finish. Allocated us an easy access spot and gave us good advice. Excellent location and the site is in a beautiful setting. Watching the sunset over the hills was a highlight. The amenities were excellent and very clean. The whole place is run in a very green way, which is fantastic to see. 100% recommend. Thank you for our lovely stay. X.

A new campsite with all facilities and beautiful views. Heated amenities building with wonderfully spacious showers. Friendly welcomed by Jacqui and Jim. Costs including electricity, £25. Twenty per cent discount on pub dinner, 15 minutes walk in Norton village. In the evening, bring a flashlight for the footpath along the way back from the pub.

A lovely compact campsite with 360-degree night skies, beautiful sunsets and well thought-through facilities. Loos and showers cleaned regularly and didn't have to queue once. Good recycling facilities and it's lovely to see wild spaces. There wasn't much shade from the intense heat, but we managed. The owners are naturally very keen to maintain the quiet family-friendly nature of the site. Our large group went over the quiet curfew time just once, and we were asked to keep it down. Highly recommend this site for a peaceful break.

Absolutely beautiful, well-kept and spotlessly clean site. The owners are very friendly and offer a warm welcome, and great advice on walks. The facilities are warm and clean with everything you need. We're only 50 minutes away, and just popped in for one night to try out our new awning – but we will definitely be returning!

Ahh, we know the feeling when fate (in our case, a mechanical failure, mid holiday, 230 miles from home) has plans that suddenly don't match your own….
One of the best set-ups that we've stayed at. Loved it! Owners are lovely and really helped us out when there was snow, which hadn't been forecast! Allowed us to leave our caravan and pick it up a week later. Planning to go back this summer.
THE RIGHT PITCH
If you have a particular kind of stay in mind, we hope these will inspire you:
Nancy (vintage caravan)
Lovely quiet countryside setting with everything we needed for a weekend break. Shower blocks and toilets were very clean, well-lit and hot water 24/7. We stayed in Nancy the vintage caravan, which is very comfortable and had all the amenities we required.
Log pod
Cleanliness was exceptional. The warm welcome we received from Jacqui despite it pouring down.
Loved the way they've kept the fields as natural as possible.
Very quiet and beautiful place. Would highly recommend.
Bell tent
Clean, friendly, really well-equipped and fantastic views.
Loved the site. Very clean and tidy and quiet.
Electric hardstanding
Liked everything about the site. The toilets and showers were immaculate, the pitches were nicely spaced apart. Felt like I was on holiday, not just a night away.
Non-electric grass tent pitch
Probably the cleanest well-kept shower block ever. There was a freezer and laundry facilities.
It was gated access, so the grounds were secure. People kept their dogs on leads. The staff were lovely people and the sunsets were amazing. Also washing up liquid and handwash were provided and eco-friendly. The whole place had an environmentally friendly vibe, and between pitches the grass was long with wild flowers every now and again. The gardening was well maintained. Pitches were level. There's also a field part-mowed out for kids to play on.
Very clean and new looking amenity blocks, toilets / showers, washing machines etc. Lovely mown pitches with beautiful views of the sunset. Great location. Lovely wild flowers and trees. Very quiet while we were there, so very lucky. Loved the nature info sheets and posters in the laundry room. Lots of wildlife around.
Fab little campsite with a friendly welcome. Arrived on a Friday at the same time as a couple of families making return visits – one family had been here seven or eight times previously – which is a good sign the campsite is doing something right! Loos and showers were spotlessly clean. Pitches level, well-maintained and a good size. The site is a little way out of Evesham, so you'll need to make sure you've brought everything you need with you. However, the owners have negotiated a discount deal with the local pub, which is a bonus!
My home for five nights! Spacious pitches. I was in Number 20 with good views. Clean facilities. Hot showers. Good location for visiting the RHS Malvern Spring Festival and some beautiful gardens in the Cotswolds. Thank you.
… AND FINALLY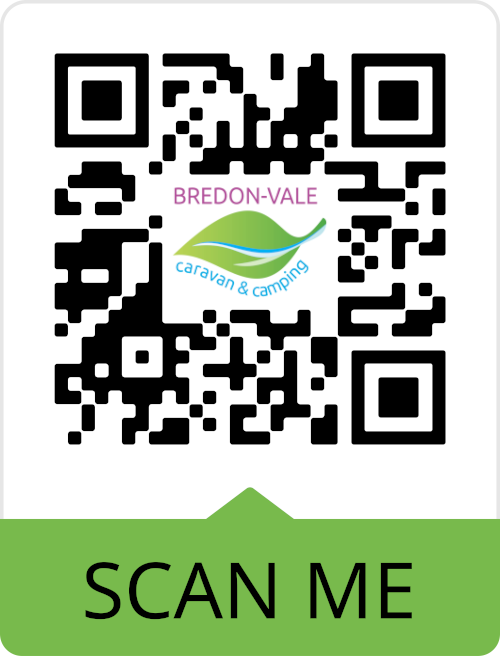 This could very well be your first visit to the Bredon-Vale website – in which case, we hope you're quietly impressed with the feedback that we're quietly determined to live up to.
It would be daft not to do what we can to keep the great comments coming, so you'll find this BVCC QR code at the foot of communications and various other places, if your gentle browse turns into a booking, and a stay.
If you're inspired to add to the reviews after that, simply point your smart phone's camera (or its QR code app) at the image and follow the on-screen instructions, then choose where you'd like to leave a review. Thanks!

We stayed with you New Year's Eve. Excellent site, the toilet block is amazingly spotless, full credit to you. Thank you for a very relaxing time. Very quiet secluded area of the world, definitely be back soon – absolutely loved it! Twenty per cent off the pub meal up the road was a great surprise on the Friday when we arrived. I was going to cook, but that definitely persuaded us to get out and support local businesses – plus an excellent way to relax fully. On New Year's Eve, we caught the bus outside the site to visit Evesham, and spent the day celebrating in the town pubs and shopping.